Learn to Sight Read!

RSS
News / 20/06/2021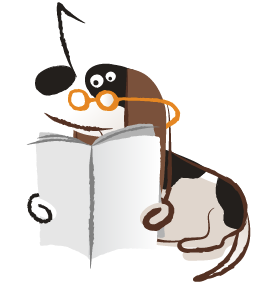 Why you're going to love E-MusicMaestro Learn to Sight Read: Piano Books ...
The pieces have good tunes and the book is fun to use! For books 1 and 2, try saying the quirky title of each piece out loud and notice how the words sound just like the rhythm of the first phrase. Keep a record of your progress with the chart at the start of each section - ideal for encouraging a little treat as a reward! Books 3 and 4 are a little more sophisticated and begin to include pastiche compositions that reflect the idioms used in mainstream piano repertoire.
But there's something new and different about these books ...

Unique QR technology in a book!
Set up the free QR app on your phone or tablet then scan the code to listen to each piece before you have a go at playing it, as many times as you like. Listening first helps you learn to sight read. Listen again to the recording and learn by comparing it with how you played. Then move onto the next piece. Using the QR codes is optional and the book may be used in the conventional way without them.
'Listen, learn and play!'
an example from book 1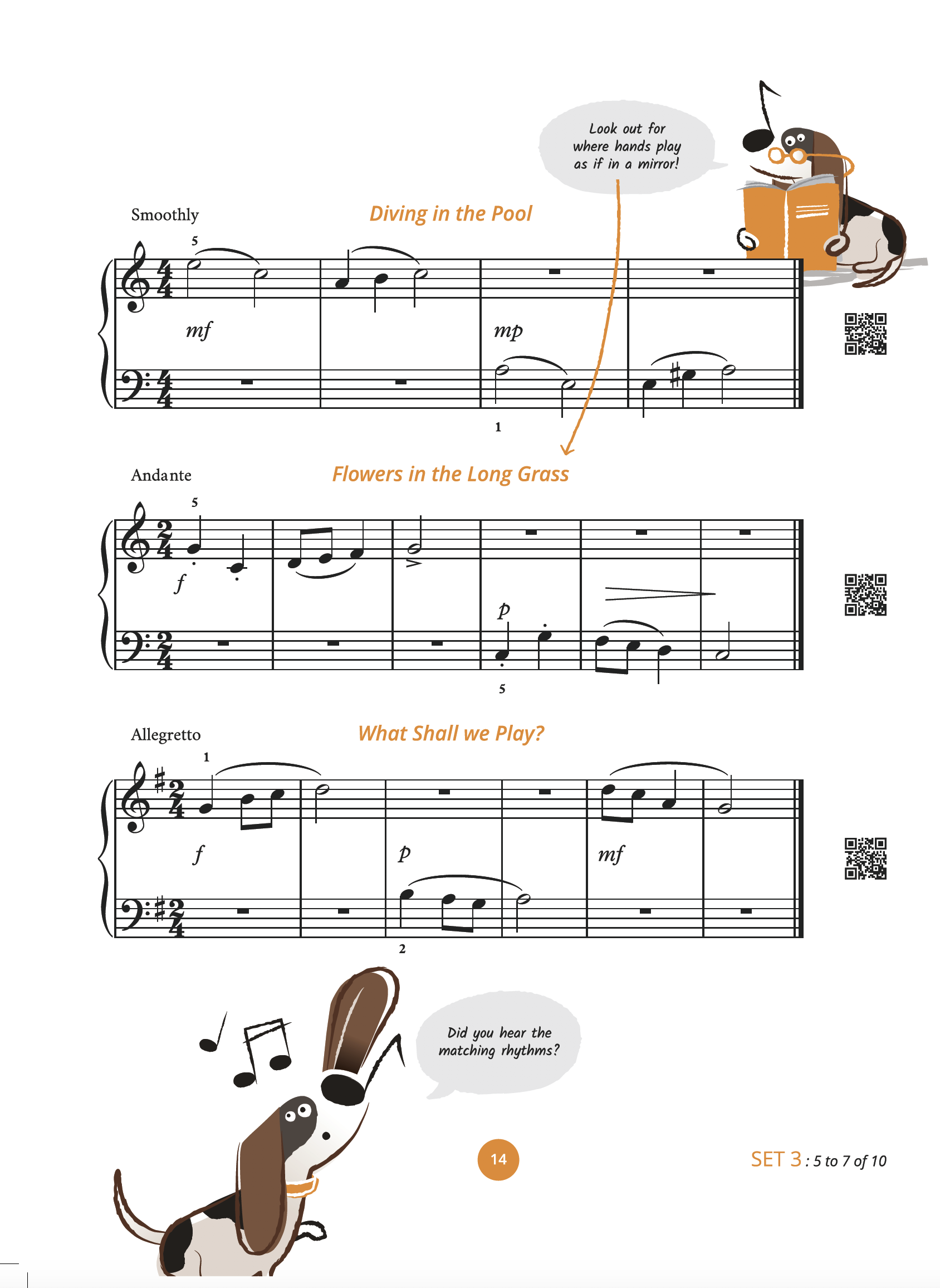 An example from Book 2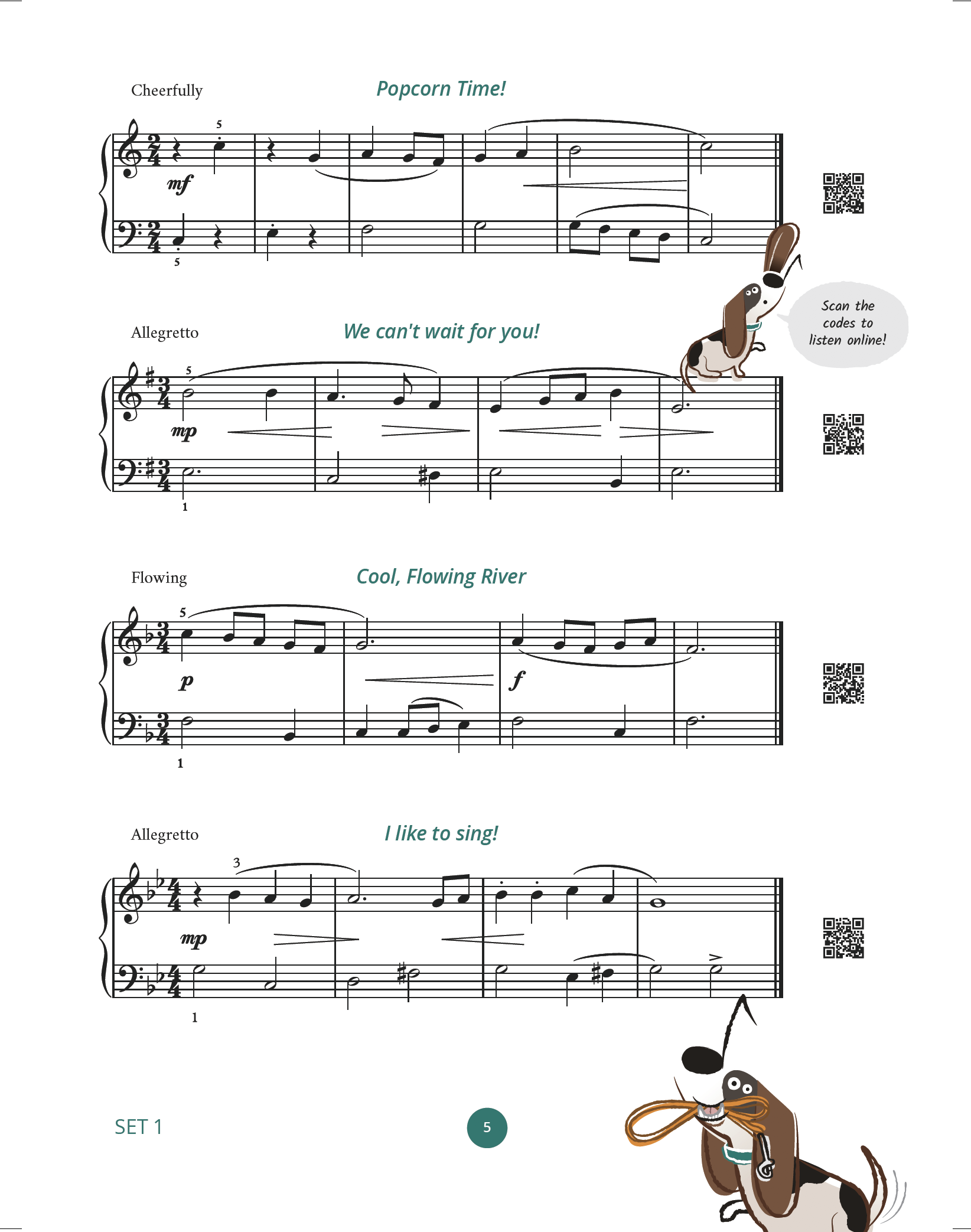 Teachers - your students learn to sight read more easily!
Teachers - your students learn to sight read more easily because listening before playing helps to reinforce the connection between notation and music, and helps with musical syntax and character. Listening after playing helps with self-assessing the accuracy and with understanding appropriate musical style and phrasing.
Exam candidates
Learn to Sight Read books were written and composed by experts who are pianists/teachers/examiners. The content covers every rhythm pattern, metre and note range that may be encountered in any piano exam at the given level of the book, so playing a piece every day means that exam candidates will be ready to get a good mark on the day. At the end of each set, there's even a special QR coded test piece in real time, just like it will be in the exam.
'You'll also see top tips from me, Maestro the Music Dog!'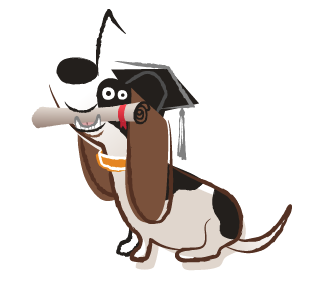 Why choose E-MusicMaestro sight reading?
Because we are professional pianists, examiners and experts in music learning theory we understand that good sight reading is based on the latent memory of real music that one has played before. Therefore we present examples that are composed to resemble the compositional styles of real composers, past and present; this is also the principle on which examination sight reading tests are created. In an examination such as ABRSM or Trinity, the candidate gains marks not just for accuracy but also for a musical performance that characterises the stated character of the piece so candidates who practise using our resources are well prepared in this respect. All our examples have demonstration recordings that the user can refer to, to check whether they understood the piece and to hear how it might be played musically. These are professionally recorded, played on a conservatoire model grand piano by Peter Noke, international performer, examiner and presenter.
But don't take our word for it ...
Read the Music Teacher magazine review
Traditional and new technologies are combined in this wonderful original approach to developing sight reading skills. The book of 100 enjoyable grade 1 level sight reading pieces helps pianists make better sense of notation and enjoy the process by using it with free QR technology to listen, look and learn. Do not panic, all you need is the book, a mobile phone or tablet and wi-fi! Downloading the free Norton Snap QR reader to your mobile or tablet is easy and there are full instructions in the introduction. Once the reader is installed you simply open the app and point it at the QR code at the end of each piece for instant access to performances. Holland and Noke suggest that pupils listen to a piece first, then play it, and then listen again to compare it with how they played. It is simple but brilliant and pupils will love it- they will probably help you download the QR reader too... There are 10 sets of pieces and at the end of each set there is a special test piece, just like in the exam, and 2 more books are in the pipeline. The other great thing about this approach is that it is supported at www.e-musicmaestro.com where there are many great free teaching tips. What's not to like, order it now!
Fiona Lau - Music Teacher magazine January 2020
Highlights of the review by Karen Marshall
…. in order to impress me, a sight reading resource needs to be something special. Well congratulations Sandy Holland and Peter Noke, I am impressed!
All the print is clear to read. Music engraving has been well done and there is a good balance of material on the page.
These are high quality publications which are clearly written by teachers, examiners and pianists.
The multi-media approach is I think a triumph, and I'm sure these books will play a valuable part in helping teachers support their students in developing their sight reading skills.
I know they will become a valuable part of my sight reading curriculum. Congratulations to Sandy and Peter, this is a job well done!
OUTSTANDING!
Here's a sample page ... (the QR codes work only when scanned in the actual book)
SPECIAL OFFERS!
Due to moving to a new publisher later in 2021, we are selling our existing stock of BOOKS 1, 2, 3 & 4 at an amazing SALE PRICE, postage FREE! Normal price £8.95 ... SALE price only £4.25! BUY NOW while stocks last!
EXTRA-SPECIAL TEACHERS' OFFER - a minimum order of any 10 books for £40, postage free! Extra books only £4.00
an example from book 3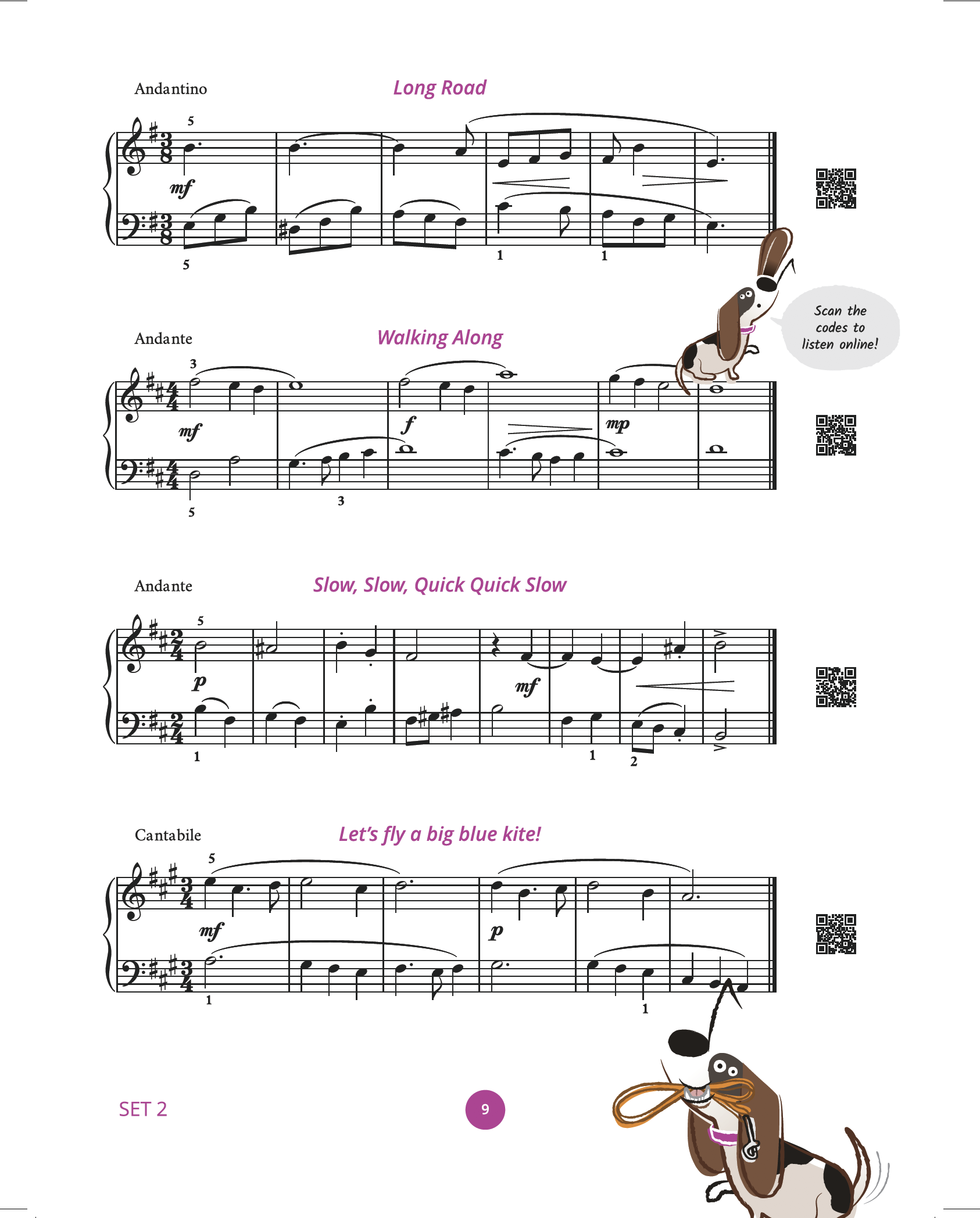 an example from book4