How I learned to sight read!

RSS
Learning / 23/08/2020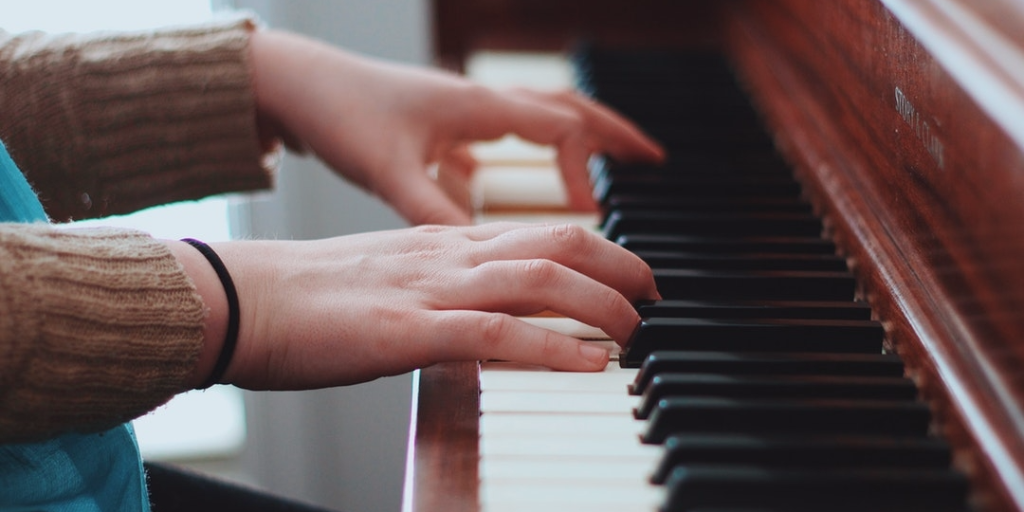 I don't often tell you about myself but, today, I'm going to share a genuine story with you ...
One day when I was about twelve years old, I was waiting for my duet partner, Catherine to come and rehearse with me. I had arrived early and, as I waited at the piano, I took down some music and began to play. 'My goodness!' said Catherine's mum, putting her head round the door. 'You're a good sight reader!' I glowed a little.
Here's how I learned to sight read ...
My dad came from a family of pianists (Great Aunt Jane was a rollicking good pub-pianist, apparently) and I knew all the tunes Dad enjoyed by the time I started piano lessons. The music that he often played, as well as his own father's music, was stacked by the side of the piano.
As a child, I worked my way steadily through that huge pile of music. I didn't give a thought to whether a piece was supposed to be difficult and I didn't much care what style it was in. I'd tinkle through Tales from the Vienna Woods just as happily as playing popular songs like South of the Border or a jazzy number such as In the Mood. I'd relish a page or two of Chopin's Ab Polonaise (goodness knows how it sounded) and I loved the grandeur of Mendelssohn's War March of the Priests. But my favourite childhood piece was … The Robin's Return. Here it is!
Every day, I did my 'practice' first and then I amused myself with Dad's ancient pile of music. I was intrigued by the curly, now obsolete, bass clef symbol and by the fingering in very old sheet music, which gave the thumb number as a + sign while the fingers were numbered 1 - 4. I never thought of my clandestine piece-playing as work but the fact remains that I was teaching myself to sight read. The thing about sight reading is that you have to expect the dots to sound like music and, if you know what the music should sound like, including the harmonies, you can relate to the notation more easily. It's a bit like the natural way in which children learn to talk, by first hearing and making sense of others talking. My 'fun' playing, quite by chance, perfectly embodied the principle of 'Sound Before Symbol' (not that I knew about that) and helped me to learn to sight read.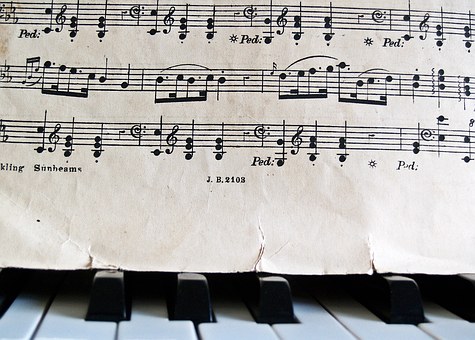 Reading music in such a huge variety of styles familiarised me with a wide range of idioms and notation patterns. Later, I came to understand, as a teacher, that those who have played a lot of, for example, Mozart find that playing more Mozart is easier than playing music in an unfamiliar style. That's because part of sight reading well is the ability to predict what might come next, a skill that comes only from having played lots of pieces. I didn't tell my teacher about my 'other' music and, at exam time, I was given a sight reading book; I never played from it, of course, because the pieces didn't make musical sense to me.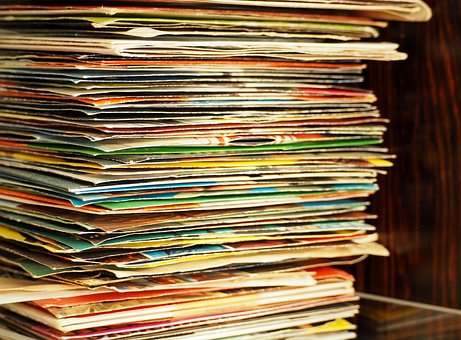 When we decided to produce our own, graded Learn to Sight Read programme, we wanted to make it as much fun as possible and to create the 'pile of music by the piano' effect by providing lots of different pieces that had real-sounding tunes. We wanted to bring about learning by listening as well as playing - there's not much point in doing a sight reading example unless you know whether or not you understood it. While having a great time making up all those early grade pieces, some of them based on 'real' tunes, I invented titles that each sound like the rhythms of the first phrase. For those taking exams, I made sure I covered every key and feature to be found in any piano exam at that level, without focusing on any one examining board.
First, we brought out online sight reading grades 1 and 2 and you liked it - but you said you wanted it in a book too, with some tips. So we published the book, with some tips from our friendly musical assistant, Maestro the Dog. (And yes, you were right - I now use the books when I'm teaching!) When you buy the books you get free access to hearing all the tunes, using QR codes – most phones have a QR code reader or you can download a free QR app for Android or iPhone. Simply point your phone at the code and away you go! You can listen before you play, and listen again after, as many times as you like.
Get your copy of Learn to Sight Read: Piano Books 1, 2, 3 and 4 now here. Book 5 will be available later this year.
Learn the easy way with E-MusicMaestro - here's a sample page from Book 1! (NB: the QR codes only work when you scan them in the actual book.)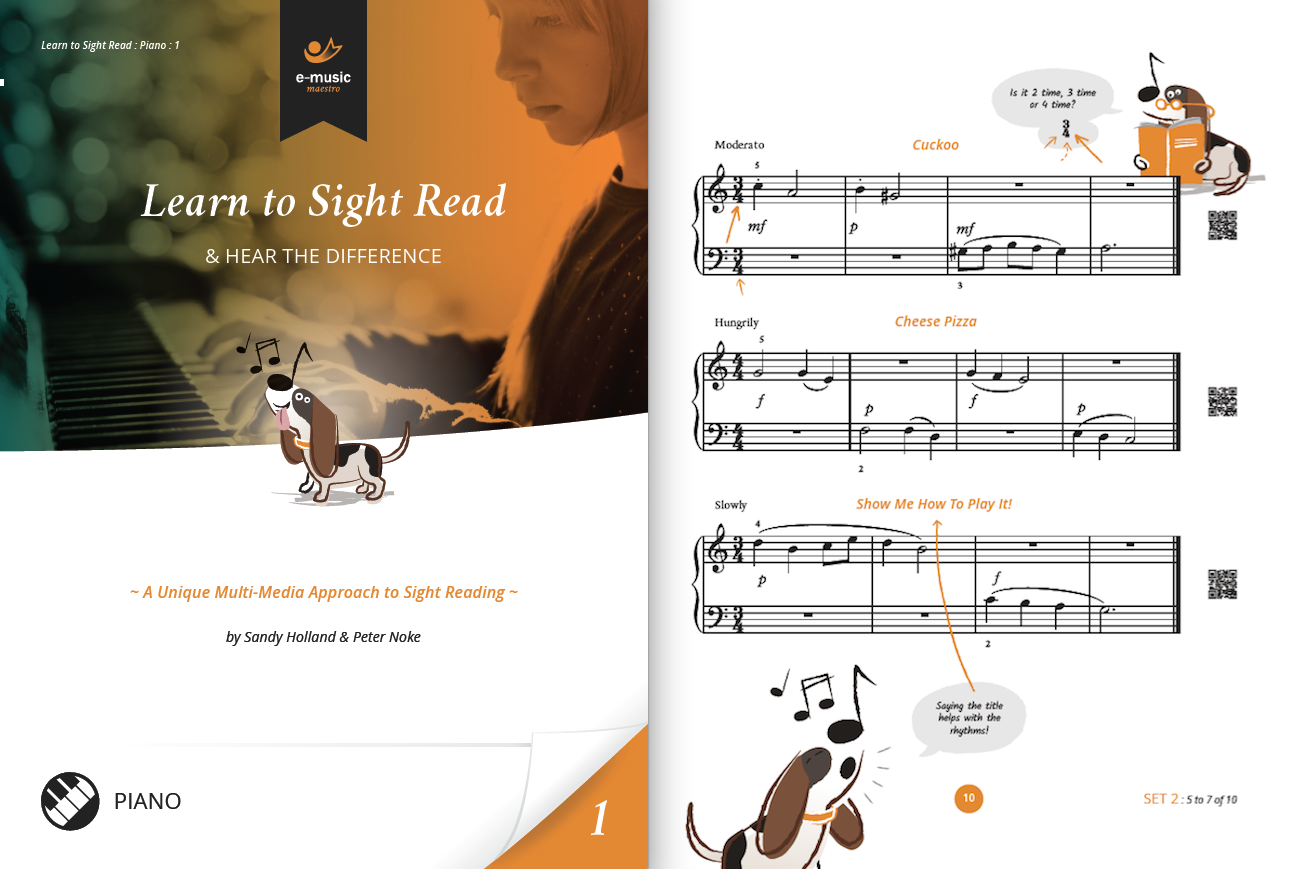 Sandy Holland