New photograph of Chopin discovered

RSS
News / 20/01/2017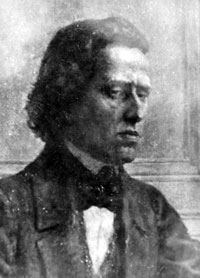 The Swiss physicist, Alain Kohler, already known for his discovery of a Pleyel piano that had belonged to Chopin during 1844-1845, has discovered a previously unknown photograph of Chopin. The picture was found by chance – it was hanging on the wall in the house of a music-lover whom Kohler was visiting.
Kohler, along with Gilles Bencimon of Radio France Internationale, studied the facial expression, clothing and distinctive detail in the photograph and came to the conclusion that the picture is a photographic representation of a daguerreotype performed in Louis-Auguste Bisson' studio in 1847. Bisson had already made two daguerreotypes of Chopin and the similar background of this picture suggests that it was made in the same studio.
The photograph seems to reflect Chopin's poor state of health at the time and may not be the most flattering portrait. Chopin's pupil and friend, Jane Stirling wrote to the composer's sister in 1850, after his death in 1849, that the representations were ugly and did not resemble Chopin's true looks.