Frozen Music Activity Book for your Christmas Shopping List!

RSS
News / 05/11/2020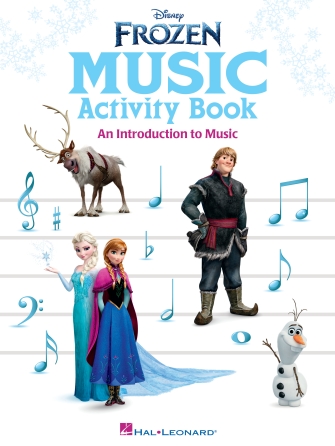 Frozen enthusiasts will love this beautifully presented book, which will satisfy their longing to pick out the Frozen tunes on the piano or keyboard, or indeed on any instrument such as flute or violin that has notation written in treble clef. The best songs from Frozen and Frozen 2 are included.
The book's subtitle is An Introduction to Music and, sure enough, it begins with basic information about notes on the stave, piano keys and finger numbers, note values, time signatures, rests and ties. As long as the songs are well known in the first place, the information is sufficient to enable users who don't read music to understand enough about notation to learn to play them. The information will not be a quick fix for learning to read music fluently in other contexts but the book could well spark interest in taking piano lessons. There is no left hand part but there are chord symbols which could be great for someone who already has a teacher to learn how to accompany a tune. It seems a pity that the book does not have backing tracks, however, which would make the experience of playing the tunes even more satisfying.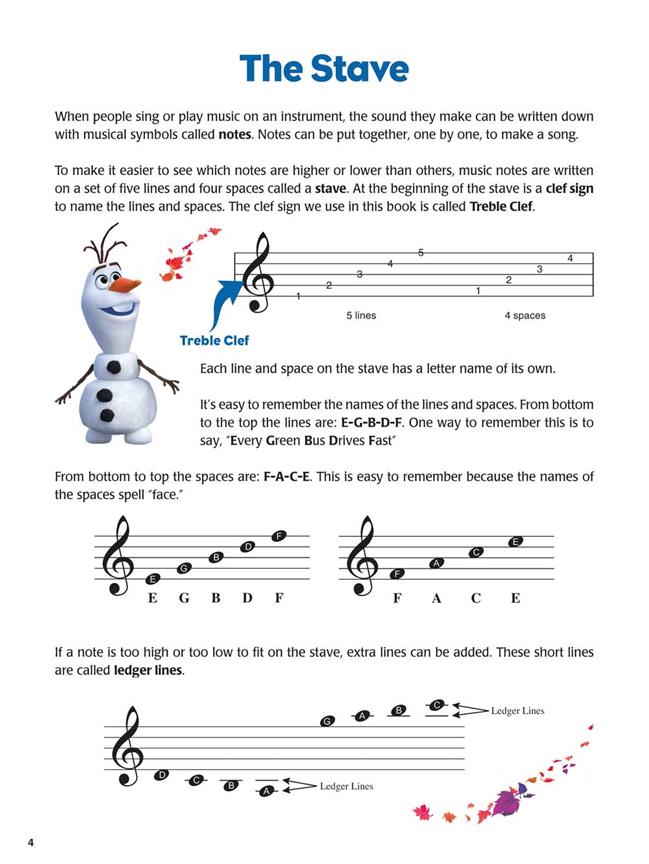 The material is graded, beginning with all white notes in C major and progressing to 'easy' keys with few sharps and flats, after which a crossword checks up on your understanding. Songs that are based on syncopated rhythms, such as Show Yourself, follow, with triplets appearing in In Summer. Nearing the end of the book, Frozen Heart features changing metre and When I am Older has swing rhythms. This book is a veritable whirlwind tour of notation-reading motivated by the prospect of playing the songs you love!
Who would like this book for Christmas?
It's difficult to pin the appeal of the Frozen songs down to any narrow age-group because parents are just as likely as their children to enjoy them. The graded approach to the songs, the puzzles, and the pictures for colouring in could make this book an attractive activity for shared parent and child time.
The book would make a lovely Christmas present for older children and young teenagers who have enjoyed watching the Frozen films again and again, already know the songs and are curious to explore playing them and understanding how they are written in notation. Buy Frozen Music Activity Book here in time for Christmas!
Song list
Let It Go
Vuelie
Do You Want to Build a Snowman?
Reindeer(s) Are Better Than People
Some Things Never Change
Show Yourself
Lost in the Woods
All is Found
In Summer
Love is an Open Door
Fixer Upper
Frozen Heart
Heimr Arandalr
For the First Time in Forever
When I am Older
The Next Right Thing
Into the Unknown