Why I Love My Solemate

RSS
News / 18/05/2016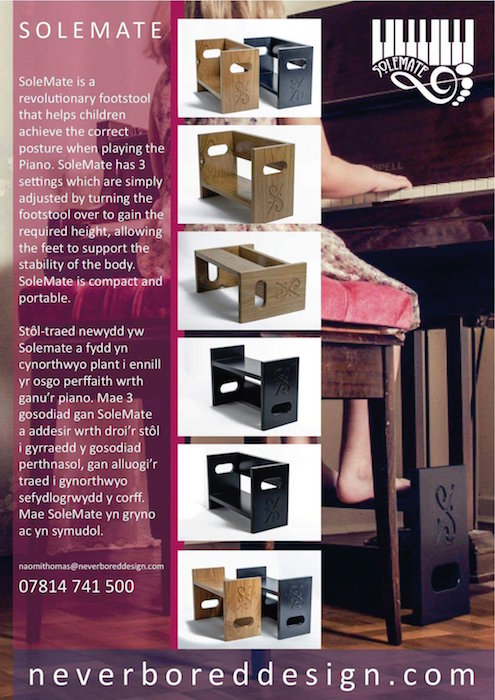 Brief Encounter
I first saw a Solemate at the 2016 Music Education Expo in London. No, it was not a romantic encounter, but it was a great discovery and a few weeks later I took delivery of my own Solemate, in black finish to match our piano. I was immediately delighted with this beautifully crafted stool, with a Segno sign at each end, because it looks good, it's light and it's easily portable. The clever design, by Naomi Thomas at Neverbored Design means that it takes only seconds to adjust to the correct height for each pupil.
Why use A solemate?
The advantages to young children of using a footstool are pretty obvious – they stop feeling uncomfortable because their legs no longer dangle, so they fidget less and refrain from doing strange things, such as kneeling on the piano stool, swinging their legs or sitting lotus-style while playing. The Solemate certainly has the edge on using piles of books, which move around alarmingly, and it looks more business-like and elegant than a plastic, kitchen footstool. There are three different heights, adjusted simply by turning the stool over and Solemate can be made in different colours, uniquely for you - you can even have a school or studio logo on it!

what did my pupils think of the solemate?
I decided to share my opinion of the Solemate only after trying it out with my pupils, which was when the unexpected benefits began to emerge. My pupils were delighted when I produced the Solemate and told them it was specially for them. I explained the pun behind the name, Solemate, which amused them. They now insist on using the Solemate and enjoy positioning it in exactly the right place for their feet, which focuses them on sitting at the right height, with forearms parallel to the keyboard.
unexpected benefits for technique development

I often notice, particularly when examination candidates adjust the height of the piano stool, that many people sit far too high and too close in relation to the piano. Sitting too high renders children's, already limited, arm-weight useless and sitting too close can cause shoulders to tense, preventing a free, relaxed technique. The correct Solemate position encourages children to get used to the right stool-height and enables good use of arm weight, rather than trying to make the sound by pressing down on the keys or by bouncing the hands. Once the Solemate is in the correct place, it prevents children from sitting too close to the piano, so they can develop freedom of arm movement and no longer need to shuffle their bottom along the piano bench to reach higher and lower notes. It also makes sure that children form the habit of keeping their feet firmly placed in relation to the body, giving balanced equilibrium.

every home should have one!
The parents were interested in my use of the Solemate because it drew their attention to the need for their child to sit at the correct height at home as well as in lessons. The Solemate comes in Natural Solid Oak as well as in the Black so there is a colour to complement every piano (and keep it safe from being kicked by swinging feet!). The price is reasonable for the quality and usefulness of this unique product (at time of writing: £49.95 for Black and £75.00 for Solid Oak) and I would certainly recommend it to all piano teachers and music parents. Neverbored can deliver a Solemate to you wherever you live.

You can buy your Solemate here at Neverbored Design or email neverbored@hotmail.co.uk for more information or call Naomi Thomas, the Solemate designer on 07814 741 500.

Sandy Holland